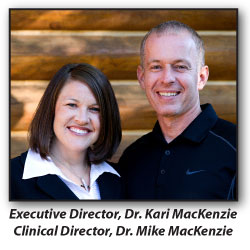 Drs. Mike and Kari MacKenzie are the directors of Marble Retreat and simultaneously direct the D.Min. program in Pastor Care at Lincoln University. Mike has been a Licensed Professional Counselor (LPC) for 17 years. Kari has been a Psychotherapist for 11 years. Both have completed their Doctorate of Ministry degrees, specializing in Counseling Christian Leaders, from Lincoln Christian University where they did extensive research in this area. They both also have a Master of Arts in counseling and have completed doctoral work in Marriage and Family therapy. Their background includes a variety of ministry experiences including: Mike's work as a hospice chaplain for 6 years and Kari's missionary work in China. As well they served on staff together at LifeBridge Christian Church and Blessing Ranch, an intensive counseling center for clergy. Previous to joining Marble Retreat full-time, they owned and operated MacKenzie Counseling Services for 8 years where they counseled individuals and couples and continued to specialize in working with those in ministry. Having written two dissertations and many articles on the topic of caring for Christian Leaders, they have a great passion to see healing and restoration brought to those in Christian service. They are proud parents of one son and bring to Marble Retreat, a great love of the outdoors to go with their rich fund of counseling experience, compassion and deep commitment to serving God and those of the faith.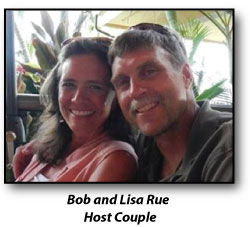 Bob Rue and his wife, Lisa are the host couple at Marble Retreat. After serving as volunteers for a number of years, Bob and Lisa made the move in June 2015 to become full time residents in the Marble Retreat lodge. Bob is an excellent cook and Jeep tour guide. Together they make the lodge a comfortable, hospitable, loving, and fun place for our guests. Bob retired as an elementary physical education teacher this past spring (2015), making it possible for Lisa and him to make this transition. He held that position for 30 years in Longmont, CO. Lisa still maintains her position as a professor with the University of Northern Colorado. Bob and Lisa have two grown children, Sarah and Rick and two grandchildren. Bob feels blessed to be caring for God's people from all around the world in such a beautiful place during this next chapter of his life.
---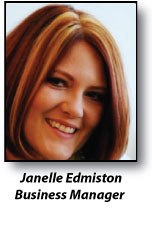 Janelle Edmiston and her family moved to the Roaring Fork Valley from Austin, Texas after feeling led by God to switch directions and move away from the hectic pace of city life. Janelle has worked in Office Administration for over 17 years in a variety of industries. Just as she was finishing up her Bachelor of Science degree in Business Management she gave birth to a beautiful baby girl. After spending some quality time at home raising her daughter Janelle is excited to put her business management skills to good use for Marble Retreat. Working for Marble Retreat has been an answer to prayer for her and continues to be a blessing on a daily basis. Janelle loves to spend time with her husband, 3-year-old daughter and their dog Nutmeg. She loves to ski, snowboard, hike, camp, sing, play piano, spend time with friends and family, and read good books.